EXPRESSYON
Feedback kiosk & application
Expressyon is a professional feedback solution for tablets, smartphone or mailing, which allows you to create your own customized and graphical surveys, and let you analyze online easily the answers
1
Create your survey's questions
2
Collect results online or offline
3
Analyze your results in realtime, and broadcast them
SATISFACTION SURVEY
ON SITE
Collect feedback from your visitors is more than ever a winning strategy for all professionals who cares about quality of services.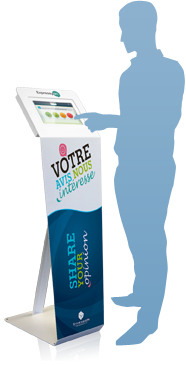 OBJECTIVES

Gain loyalty
By questionning yout visitors and customers, you grant them the right to express themselves. The customer feels concerned, listened, which leads to loyalty.
Detect
Identify the weaknesses of your services, hotpoints generating insatisfaction and against which you can be easily effective before you loose your customers.

Prove
Through this solution, you are able to communicate your results to prove you services quality, to your partners as well as to your visitors.
ASSETS

Elegance
Fully graphical and stylised survey for your visitors' pleasure

Simplicity
Creation of several questions without any skill
Managing of multiple surveys by automatized calendar
Great fastness in the response input
Performance
Works offline (with automatic synchronisation as soon as it comes online back)
Filtering of results bu profiles
Language selection on the go
The data collection on-the-spot allowed by the satisfaction survey kiosks is a prevalent strategy as it encourages satisfied visitors to express themselves, what they will seldom do within a postponed survey where visitos are asked to give a feedback. Unsatisfied visitors will be a ot more eager to express than satisfied ones.
EXPRESSYON give you the ability to collect the feeling of your visitors with a single touch, multi choice questions or mere suggestion input. This is the leader solution to measure your clients satisfaction, set up field survey, or check how your visitors enjoyed your event.
Results easy to
interpret
Graphic summaries
Results are all rendered through graphical charts to be compared or studied with a simple glance. Exports allow you to go into results in depth, and email reports allow you to collect result without any effort.
Realtime
Get the data in realtime to react immediately. And reversely, change your surveys remotely in realtime according to events.
Filter by profile
Check the results per profiles by filtering easily the answers according to other results. Thus you can create views per profile, per time, per interest.
Intuitive

interface

The admin interface is available as a webpage, which means from any hardware and allows you to :
Create surveys and questions
Plan surveys broadcasting
Customize icons for your questions
Check online results
(and in realtime if tablets are online)
Filter results, cross datas
Create PDF and XLS exports, receive them by email
Data
gathering
Gathering of data can be done without any online connection :
In case the table is offline, it stores the result in queue. All will be sent as soon as an online connection is restored.
Otherwise, if the tablet is online, it sends immediately the answers to the server. Results are then in realtime.
Results are processed and analyzed in realtime on our servers. You can check the results on your web interface, or receive automatic email reports.
You can also create guest accounts who will be able to view the results without having full access to survey administration.
Satisfaction Survey Kiosks
The proposed kiosks are made of a metallic stand and an Android tablet.
These exist as profesionnel model in 10″, 13″, 15″ ou 21″ size, in order to make your kiosks more attractive, or as secured public tablets in 10″ on customisable stand.
FOLD kiosks


Theses kioks with nice design carry a 10″ tablet of great reactivity. The stand can be customised to your brand.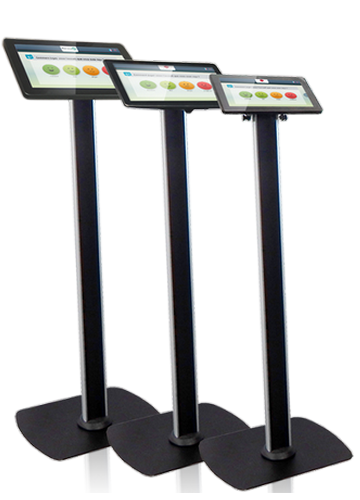 MONO kiosks


Theses kiosks are made of a stand and a professional tablet 24/7 dedicated to an intensive usage. They are proposed in 10″, 13″, 15″, 21″ size.
LOCKSY counter-kiosk


The Locsky casing is intended for counter, promoting the survey where the customer is, and just when he leaves : satisfied or not ?